Home | Horse Homeopathy First Aid Kit
Horse Homeopathy First Aid Kit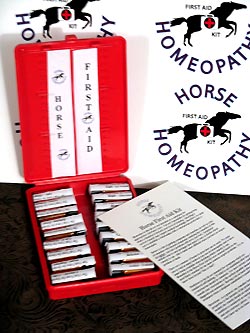 "Finally, a holistic first aid kit."
Each kit contains:
• 18 homeopathic remedies, offering immediate response to first aid.
• Easy to use instruction guide
• List of guiding symptoms
• List of remedies and their uses
The remedies in the kit are intended for symptoms which are considered self-limiting. For more serious conditions, Consult your doctor at the earliest possible moment for diagnosis and assistance. Having a kit on hand can give you a head start with many common first aid situations. So you can enjoy your travels and be prepared...naturally.
Directions : As a general rule remedies begin to act in direct proportion to the intensity of the problem, ie., if urgent attention is needed, the remedy should act quickly. Generally, giving a dose (3-5 pellets) every fifteen minutes. As symptoms subside - give less and less. You can alternate remedies when needed to address different situations. Drop a few pellets under tongue - avoid touching pellets.
Included Remedies with Keynotes and Photo
Click on the remedy or its photo to read more about individual remedies.
Go to the Horse Homeopathy First Aid Kit Remedies to read about all the included remedies.
| | | |
| --- | --- | --- |
| Remedy | Keynotes | Photo |
| | Shock, fear, restless, shaking, sudden onset, laminitis | |
| | Stings, hot swelling, allergic reactions, itching | |
| | Trauma, shock, bruises, sore, sprains, earache | |
| | Fever, inflammation, anxiety, boils, redness | |
| | Stiffness, arthritic, colic, back pain, flu, irritable | |
| | Fracture, bone pain, chilly, overexert, car sick | |
| | Collapse, digestive bloating, gas, hypothermia | |
| | Dehydration, weak, fluid loss, diarrhea, collapse | |
| | Colic, cramps, gas, constriction, impatient | |
| | Eye wound/pain, conjunctivitis, watery eyes | |
| | Abscesses, boils, cough, pus, croup, septic | |
| | Puncture, nerve injury, burns, mashed hoofs | |
| | Sinuses, discharge, respiratory, cough, joint pain | |
| | Poison, vomiting, over eating, constipation, anger | |
| | Bleeding, poison, vomiting, anxiety, bronchitis | |
| | Arthritis, sprains, swelling, vertigo, back pain | |
| | Suppuration, nails, thrush, boils, pus, abscesses | |
| | Vaccinosis, warts, vertigo, infection, skin tags | |
Back to top